EPIC Platinum Performance Package
Why equip your King Air 200 with the EPIC Platinum Package?
You will receive a new Airplane Flight Manual Supplement that lets you take advantage of these benefits:
Increased performance in all flight phases
Carry more passengers, cargo and fuel
Flexibility to operate safely into thousands more airports
Safer operations with true FAR 25 Balanced Field Lengths
Greater dispatch reliability due to elimination of yaw damper restriction
Reduced cabin noise
Performance
Composite 5-Blade Swept Propellers
Composite 5-Blade Swept Propellers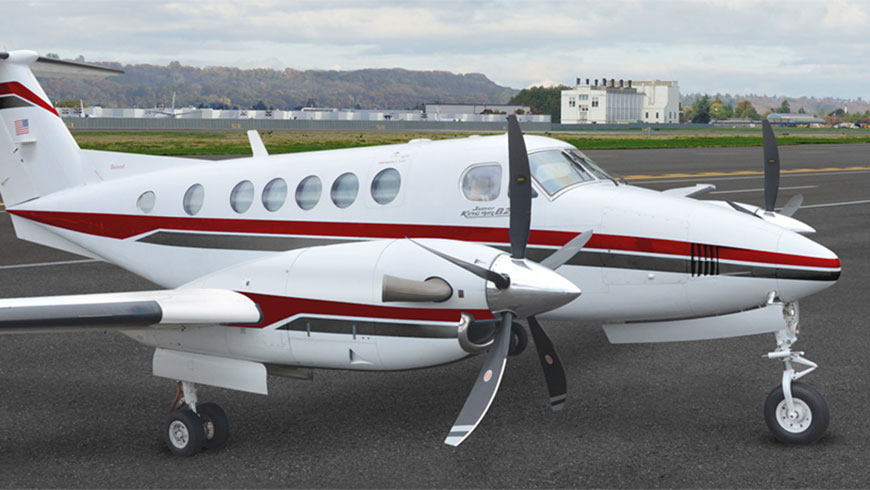 Command More Power Without Increasing Noise
Noticeably quieter, Raisbeck's Composite 5-Blade Swept Propeller combines airfoil efficiency and carbon fiber structural design to maximize thrust. Now available for 300/350 series and 200 series King Airs, this combination enhances climb and cruise speed performance, along with takeoff and landing distances, without increasing noise levels in your airplane or on the ground. Operators can enjoy 4 percent better runway acceleration, improved landing deceleration and weight savings over other propeller materials. Composite blades offer unlimited blade life, providing operators the ability to maintain airfoil shape over time.
KA200 Series Advantages
Modern carbon composite construction
Unlimited blade life
106-inch diameter
Increased thrust and cruise speeds
Improved landing deceleration and acceleration stop
Reduced noise and vibration
54 lbs weight savings compared to OEM propellers
Stunning ramp presence
6 years/4,000 hours TBO – reduced maintenance and overhaul costs
3-year/3,000 hour warranty
Swept Blade Turbofan Props
Swept Blade Turbofan Propellers (SBTP)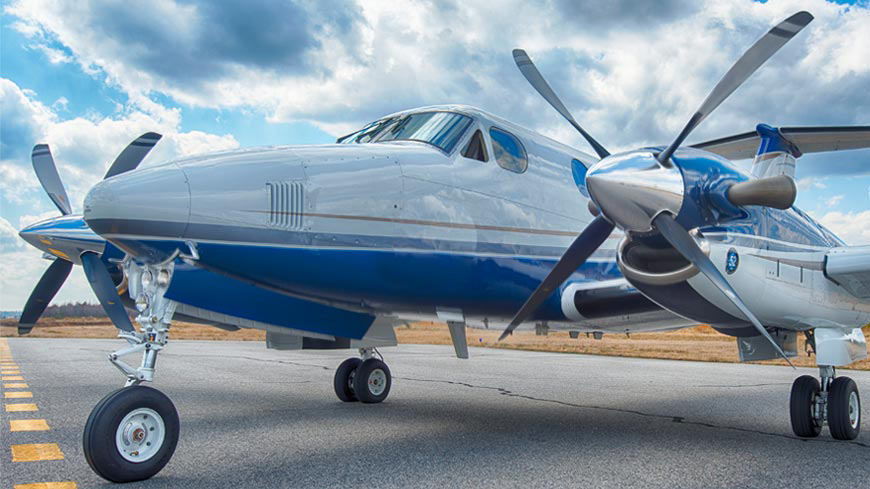 How do they work?
Raisbeck/Hartzell Swept Blade Turbofan Propellers for the King Air 200 utilize unique swept-wing technology to increase thrust while reducing noise and vibration. FAA-certified, the Swept Props come with new Airplane Flight Manuals, making them compatible with all combinations of Raisbeck Performance Systems and carrying with it all of these systems' FAA-approved increased performance levels.
If you want the most out of your aircraft, couple the Swept Blade Prop with our EPIC Platinum package and operate the best performing King Air in the field.
Benefits
Larger (96″) diameter, more powerful design develops more thrust without increasing noise or vibration
You can feel the improved acceleration when you apply power
Inherently improved performance in all phases of flight from takeoff to landing
Made of affordable aluminum
Trouble-free operation between 6-year, 4,000 hour overhauls
Technology
Unique combination of aerodynamic technology and computer-aided manufacture
Lightweight aluminum hubs and blades
Oversized hydraulic power piston to lock in propeller synchrophasing
Grease-lubricated hubs to preclude oil leaks
Ram Air Recovery System
Ram Air Recovery System (RARS)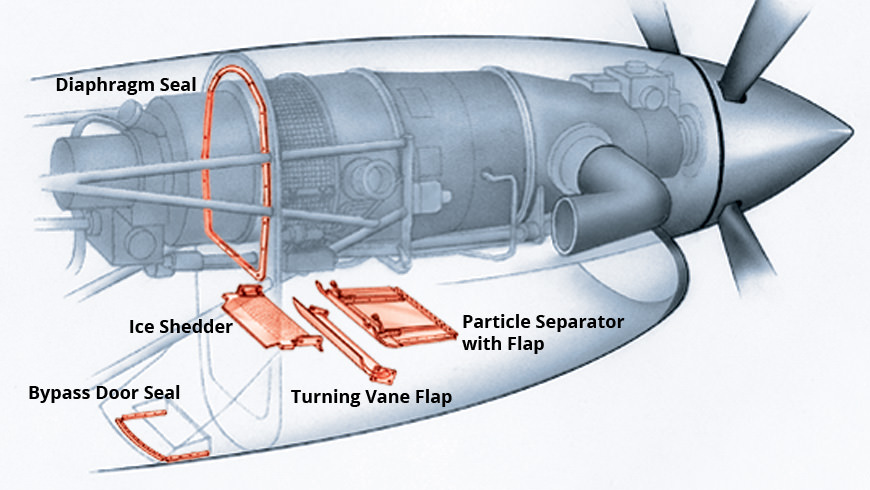 How does RARS work?
By making the airflow to the engine more efficient, the Ram Air Recovery System (OEM standard on new King Air 250s) decreases ITT 18° at equal torque, prevents FOD and increases all weather capability.
Benefits
Significantly improved climb and cruise performance with ice vanes stowed or deployed
18º cooler engine ITT at equal torque
8% increase in available horsepower
8% to 11% block fuel savings (as part of the 250 EPIC Platinum Performance Package)
Ice vanes may be deployed at any time including taxi and takeoff when at OATs up to ISA +27ºC*—Use of ice vanes on RARS- equipped aircraft on the ground and during takeoff and landing minimizes the risk of foreign object damage.
Technology
Developed and tested in conjunction with Pratt & Whitney of Canada, Ltd
FAA-Certified for ice-vane deployment on the ground and in the air
Utilizes coanda-effect aerodynamics for efficient airflow vectoring
Full inlet plenum sealing through unique full-body diaphragms
Enhanced Performance Leading Edges
Enhanced Performance Leading Edges (EPLE)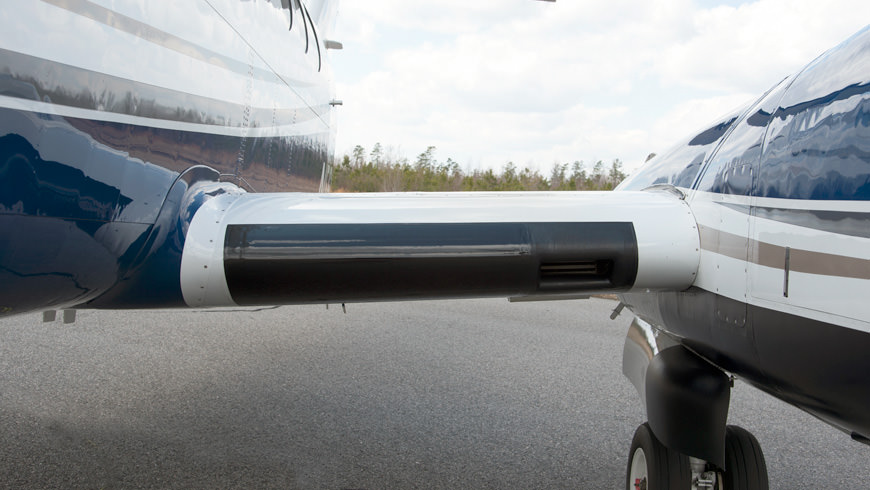 How do they work?
A key part of the 200 EPIC Platinum Performance Package, Enhanced Performance Leading Edges significantly improve climb and cruise performance and reduce stall speeds, along with other benefits.
Benefits
Increased cruise speeds
Reduced stall speeds
Increased outboard wing life
More efficient air conditioning through improved intercooler efficiency
Excellent low speed flying qualities and stall characteristics
Technology
Modern aerodynamic airfoil improves airflow
Composite construction for strength and weight savings
Recessed flush-mounted de-icing boots minimize drag
Extended de-icing boot material protects intercooler inlet from foreign object damage
Optimize intercooler inlet and ducting
Dual Aft Body Strakes
Dual Aft Body Strakes (DABS)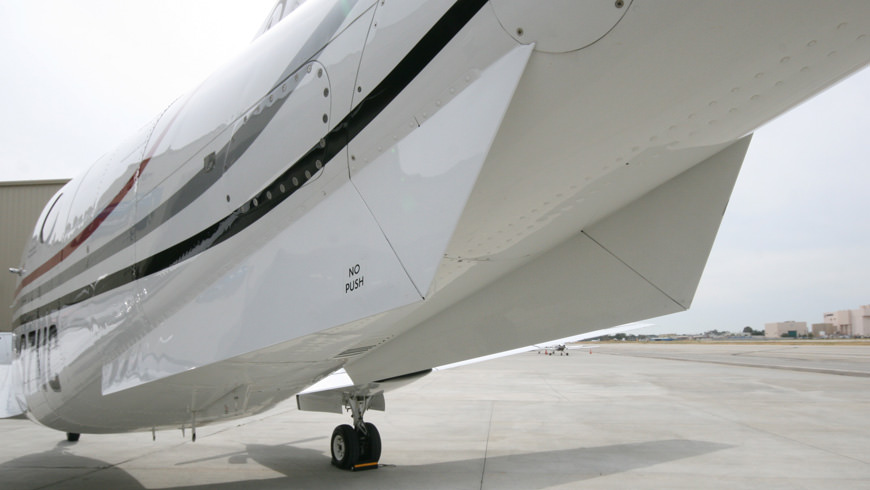 What do they do?
Raisbeck's Dual Aft Body Strakes improve directional stability, passenger ride quality, pilot control and aircraft handling characteristics, and climb and cruise performance. Factory-installed on all new King Air 350s, Raisbeck Dual Aft Body Strakes are The New Standard—plus, they will give your King Air 200 a fresh, modern appearance.
Wing/body vortices normally disrupt airflow under the aft fuselage, creating drag. Dual Aft Body Strakes eliminate this separation, channeling the vortices and accelerating the air — in effect, pushing the airplane through the air.
Benefits
Eliminates yaw damper inoperative altitude limits, increasing your dispatch reliability
Improved directional stability and pilot control
Reduced drag in all flight modes
Improved passenger ride quality
Quieter cabin and cockpit
Increased climb and cruise performance
Inherently reduced minimum control airspeed
Technology
Classic Beech ventral fin is removed
The shedding wing/body vortices are captured under the aft fuselage pressurizing and reducing aft-body drag resulting coanda-effect attaches the aft-body airflow
Equivalent vertical tail area is increased
High Flotation Gear Doors
High Flotation Gear Doors (HFGD)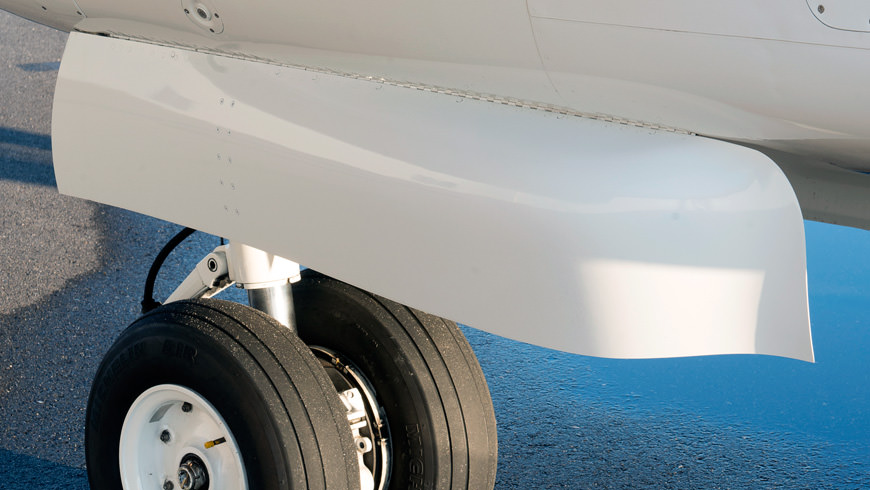 Does your King Air 250 have high flotation gear?
If so, our fully-enclosed High Flotation Gear Doors will restore the climb and cruise performance lost with high flotation gear. That's why they are a key element of Raisbeck's EPIC Performance Package.
For military ISR operations, our High Flotation Gear Doors reduce drag and thereby increase loiter time by 30 minutes or more!
Benefits
Restore the climb and cruise performance to that of King Air 250s equipped with standard gear
Cruise speeds are increased by 4-10 knots
Wheel wells, tires, wheels and brakes are protected from the elements
Technology
Fully encloses the protruding high-flotation gear, wheels, and tires
Aerodynamically area-ruled to maximize drag reduction
Constructed of lightweight composites for maximum strength and minimum weight
Crown Wing Lockers
Crown Wing Lockers (CWLS)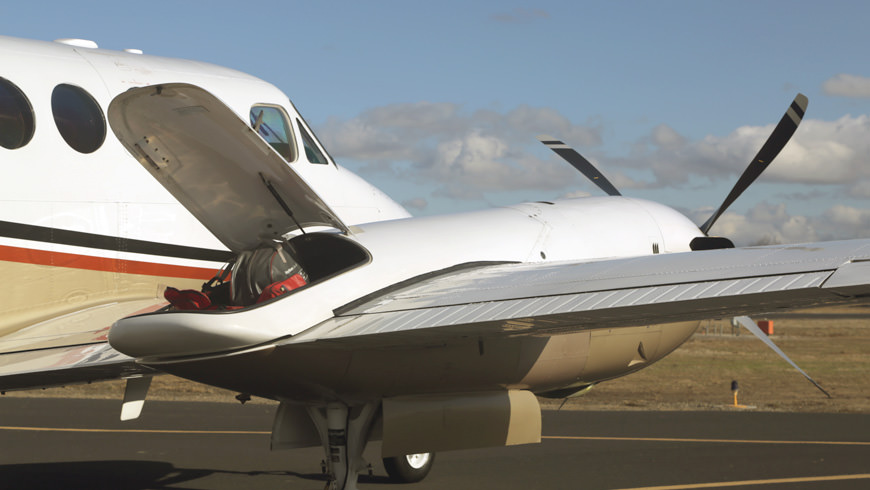 Return your cabin to your passengers!
Raisbeck's Crown Wing Lockers give you the extra, secure storage you need outside the cabin, with no performance penalty. The Lockers can accommodate skis, snowboards, camping/hunting/fishing gear and other long items that can't be legally carried inside the cabin.
Crown Doors are also available for retrofit on previously installed Nacelle Wing Lockers.
Benefits
Certified for 600 lbs (300 lbs per locker) in nearly 17 cubic feet of stowage space
Carry oversized luggage and full size golf bags
FAA-certified for FAR Part 135 operations
Free up seats for additional passengers
Save on interior wear and tear
Watertight, lock-and-key security
Technology
Lightweight composite construction allows for infinite-life structural certification
Aerodynamically area-ruled to minimize drag
Fully self-contained for a clean and dry locker interior
Removable in minutes for airplane maintenance or inspections