Power Props
Power Props (TFPS)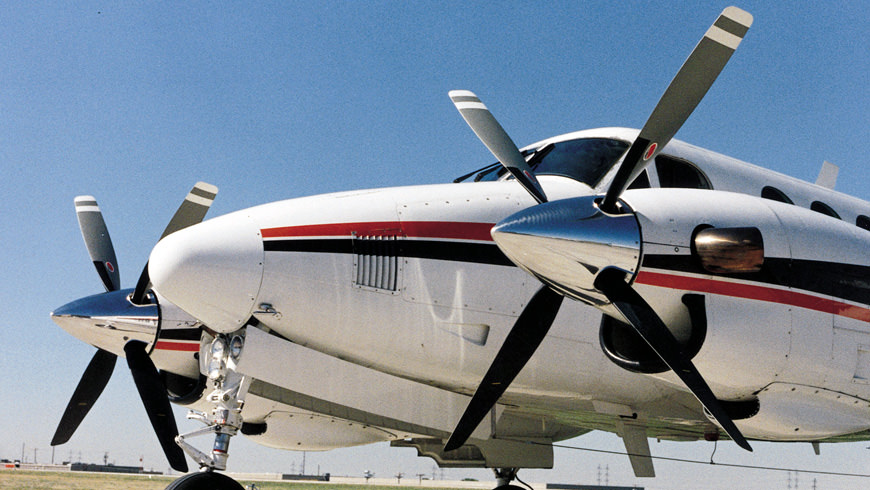 Want more power and less noise?
Raisbeck Quiet Turbofan Propellers (Power Props) improve performance in all phases of flight and operate more quietly through reduced takeoff, climb and cruise propeller RPM.
Benefits
Quiet, virtually vibration-free operation from takeoff to touchdown
Certified worldwide to the most stringent noise requirements (FAR Part 36 and ICAO)
Improved airplane performance in all flight phases
Trouble-free operation between overhauls (proved by millions of service hours)
TBO 4000 hours/6 years
Technology
Unique combination of aerodynamic technology and computer-aided manufacture

Lightweight aluminum hubs and blades

Oversized hydraulic power piston for lock-in propeller synchrophasing

Grease-lubricated hubs to preclude oil leaks

Manufactured by Hartzell Propeller, Inc.
Dual Aft Body Strakes
Dual Aft Body Strakes (DABS)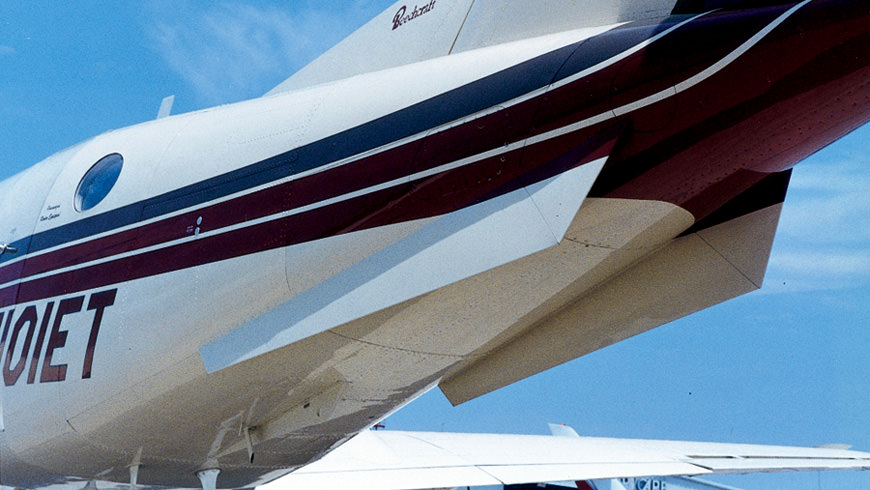 What do they do?
Raisbeck's Dual Aft Body Strakes improve directional stability, passenger ride quality, pilot control and aircraft handling characteristics, and climb and cruise performance. Factory-installed on all new King Air 350s, Raisbeck Dual Aft Body Strakes are The New Standard—plus, they will give your King Air F90 a fresh, modern appearance.
Wing/body vortices normally disrupt airflow under the aft fuselage, creating drag. Dual Aft Body Strakes eliminate this separation, channeling the vortices and accelerating the air—in effect, pushing the airplane through the air.
Benefits
Eliminates yaw damper inoperative altitude limits, increasing your dispatch reliability
Improved directional stability and pilot control
Reduced drag in all flight modes
Improved passenger ride quality
Quieter cabin and cockpit
Increased climb and cruise performance
Inherently reduced minimum control airspeed
Technology
Classic Beech ventral fin is removed
The shedding wing/body vortices are captured under the aft fuselage pressurizing and reducing aft-body drag resulting coanda-effect attaches the aft-body airflow
Equivalent vertical tail area is increased
High Flotation Gear Doors
High Flotation Gear Doors (HFGD)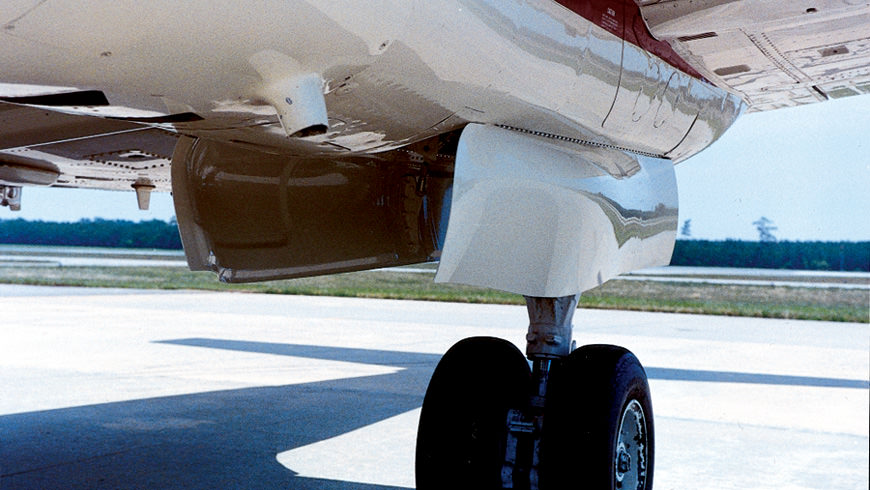 Does your King Air 250 have high flotation gear?
If so, our fully-enclosed High Flotation Gear Doors will restore the climb and cruise performance lost with high flotation gear.
Benefits
Restore the climb and cruise performance to that of King Air 250s equipped with standard gear
Cruise speeds are increased by 4-10 knots
Wheel wells, tires, wheels and brakes are protected from the elements
Technology
Fully encloses the protruding high-flotation gear, wheels, and tires
Aerodynamically area-ruled to maximize drag reduction
Constructed of lightweight composites for maximum strength and minimum weight